Rail Shoulder
Rail Shoulders (Cast-in Rail Shoulders)

Application
UIC54
UIC60
115RE, ,50kg Rail, 60kg Rail,
BS80lbs, BS100lbs, ect.
Raw Material
QT500-7
QT450-10
QT400-15
Standard Reference
GB 1348-88
GB 1348-88
GB 1348-89
Chemical composition(%)
C:3.60-3.80
C:3.40-3.90
C:3.50-3.60
C:3.60-3.80
Mn:0.2-0.5
Mn:≤0.5
Si:2.50-2.90
Si:2.70-3.00
Si:3.0-3.2
P:≤0.08
P:≤0.07
P:≤0.07
S:≤0.025
S:≤0.03
S:≤0.02
Tensile Strength
≥500 Mpa
≥450 Mpa
≥400 Mpa
Yield Strength
≥320 Mpa
≥310 Mpa
≥250 Mpa
Elongation(%)
≥7
≥10
≥15
Hardness
170~230HB
160~210HB
130~180HB
Metallographic organization
Ferrite + Pearlite
Graphite + Ferrite + Pearlite
Ferrite
Surface
Plain , Hot Dip Galvanized,Sandblasting

Customization is available !
Weld-on Shoulders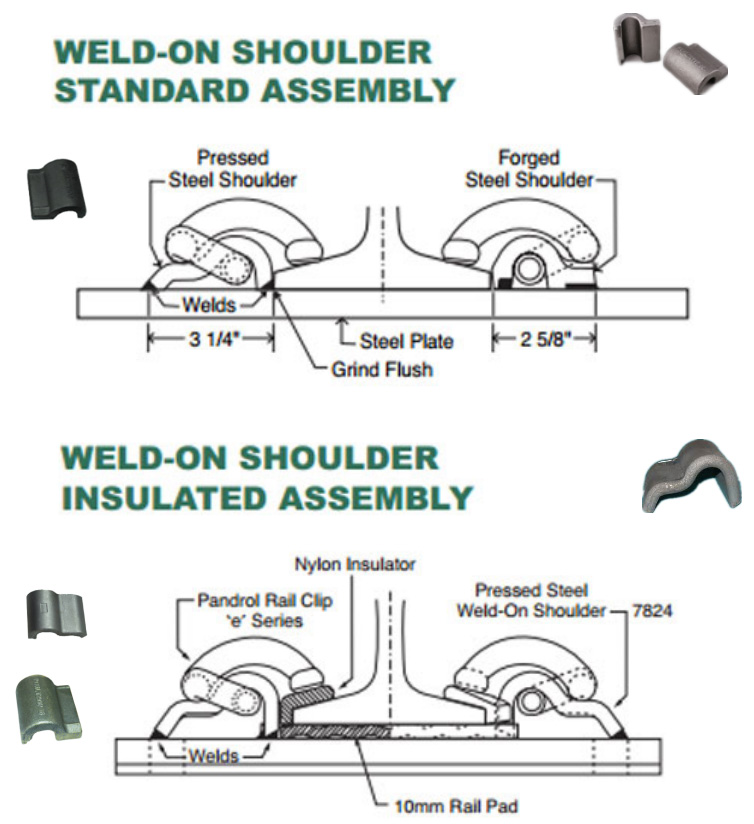 Applications: 88Lbs,50Kg Rail,60Kg Rail,115Re,UIC60
Raw Mateiral: Mild Steel , Cast Iron ,Alloy Steel
Surface Treatment : ,Plain , Hot Dip Galvanized , Sandblasting
Production Engineering: Forging , Casting.
Customization is available !
Rail Shoulders
Rail shoulder is cast in the concrete rail ties to fix the elastic rail clips. There are two types of rail shoulders available, the cast-in shoulder and the weld-on shoulder, both of which are used for the fixing of elastic rail clips.
A) Cast-in rail shoulder
The casting shoulders as the embedded part of the rail way fastening system are pressed in concrete sleeper and work together with the E clip to fasten the rail. The cast in shoulder is made by casting from iron, such as, GB/T 1348-1988, NF EN 1563(1997), ISO1038, DIN 1693, JIS G5502 (2001), KS D 4302, GOST 7293(1985) or BS EN 1563(1997).
B) Weld-on shoulder
The weld-on shoulder is used at the typical position of rail where the rail shoulder is weld on flat steel plate rather than the standard tie plate. The weld-on shoulder is produced by hot forging, according to AREA standard. The materials for weld-on shoulders production can be low or medium carbon steel, based on the customer's specific requirements.
Copyright 2015-2018 GLAMOUR LTD., All Right Reserved.
技术支持:
仕德伟科技

苏公网安备 32058102001510号